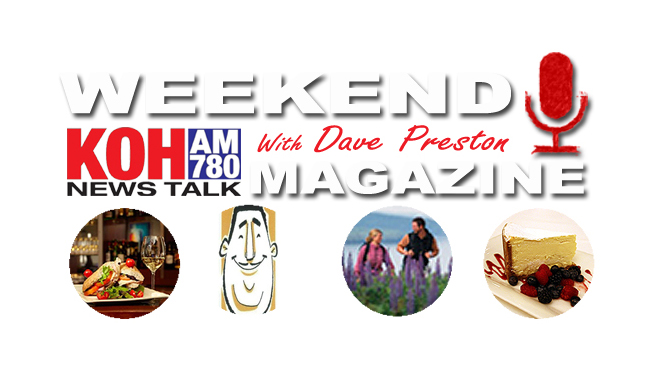 Life's too short…you need to take time to enjoy the good things in life! That's what we do every Saturday on Weekend Magazine, the most positive show on radio.
Join Nevada's "Guru of the Good Life" Dave Preston Saturday's at 11:00am. It's all about food, wine, entertainment, lifestyles, fun events, places of interest and de-stressing fun…the Goodlife!
You can contact Dave: weekendmagazine@kkoh.com    

Listen to "Weekend Magazine" on Spreaker.
This Week's Restaurant
---
  Evans American Gourmet Cafe
536 Emerald Bay Rd.
South Lake Tahoe,  CA
                                                       530-542-1990
---
GourMelt
Address: 101 University Terrace, Reno, NV 89503
| | |
| --- | --- |
| Saturday | 11AM–8PM |
| Sunday | Closed |
| Monday | 11AM–8PM |
| Tuesday | 11AM–8PM |
| Wednesday | 11AM–8PM |
| Thursday | 11AM–8PM |
| Friday | 11AM–8PM |
Take-out and Uber Eats available​
Karen Hyatt-Minor and Dave Preston hold his induction trophy to the Nevada Broadcasters Hall of Fame at the Weekend Magazine/Vino 100 wine club tasting.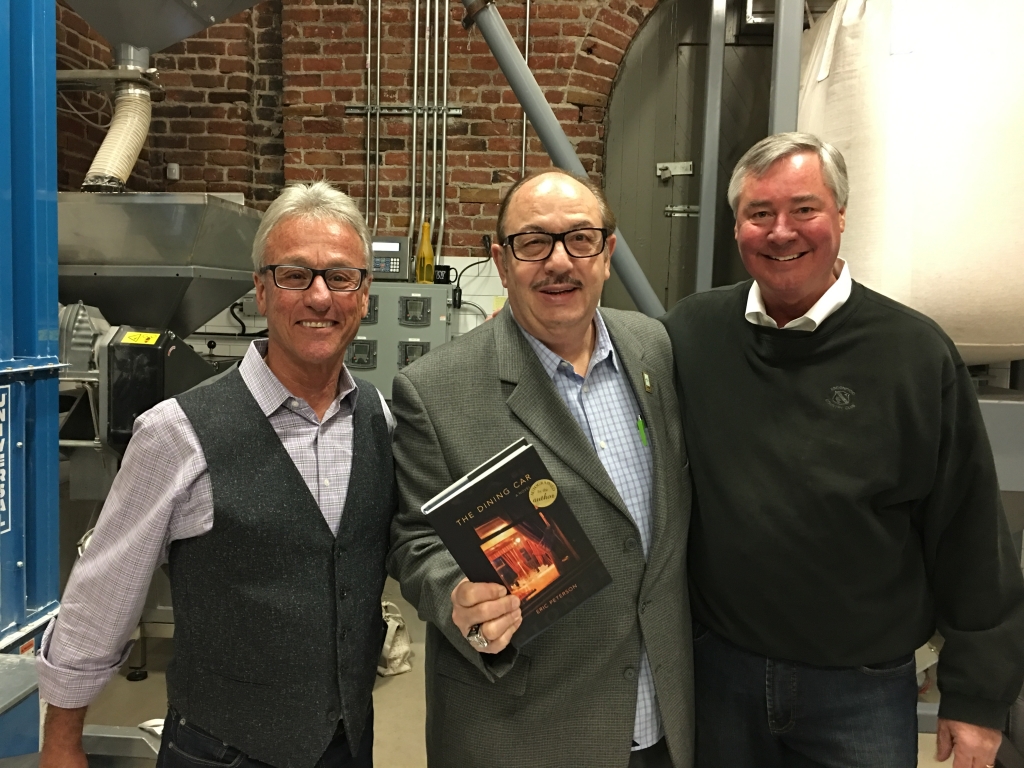 Your Guru with author Eric Peterson (R) and that "Wine Guy" Tommy Cortipossi (L) at the book signing of The Dining Car…a novel by Peterson about a great food writer and his sojourn on his classic train car. Available on Amazon
---
From Dave's recent trip to the good life down in Mexico at the Sunset Mona Lisa!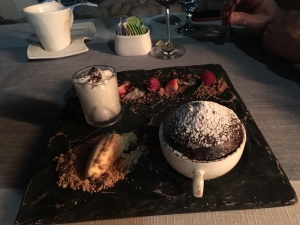 Click here to learn more about Sunset Mona Lisa!
Here's how to join:
Please go to the store – 1131 Steamboat Pkwy. – Next to Starbucks near RC Willey
It's FREE to join and your commitment is for 90 days only at $35 per month charge to your card and you must pick the wines up at Vine 100.
ẘ         You get your choice of two reds or two whites or one each which you will declare when you join.
ẘ         The first Saturday of the month when you pick up your wine, I'll be there tasting the featured wines and you get a glass on me!
ẘ         You get a 10% discount on any wine purchase.
ẘ         You get a recipe to pair with the wine.
ẘ         You get invited to our members only FREE wine tastings.
ẘ         You get my personal guarantee the quality of the wines are exceptional and the value for the price is remarkable!
This wine club is a private enterprises and not directly affiliated with KKOH or Cumulus Media, Inc.

CROSSBARN Paul Hobbs – Sonoma Coast 

Pinot Noir 2013 

EVENT PRICE $27.20 WV $31.99 WINERY $40

91pts Antonio Galloni – "Bright red cherries, plums, mint, pine and spices lift from the 2013 Pinot Noir (Sonoma Coast). Aromatically nuanced and pliant, the 2013 impresses for its boisterous, joyous expression of the Coast. Drink this forward, fruit-driven Pinot over the next few years."

90pts Tasting Panel- Vivid dark garnet color with a focused nose of black plums and dried herbs. The dense palate exudes Bing cherry, raspberry and fresh pomegranate flavors with hints of black tea and cedar. Supple tannins with peppery, mineral undertones round out the lengthy finish.

Curtis: "Frank Family has long been a favorite winery amongst our customers due to their never ending consistency. Their Pinot which they introduced a few years ago, offers that user friendly style that everyone will love!"

_____________________________________________

FRANK FAMILY VINEYARDS 

Pinot Noir 2013 

EVENT PRICE $25.50 WV $29.99 WINERY $36

Frank Family Vineyards Carneros Pinot Noir has a bright ruby core and opens with aromas of black cherries, raspberry and spice. As the wine opens, floral notes reminiscent of hibiscus flower and potpourri blossom in the glass. The palate is fleshy, loaded with fresh berry flavors and lush savory notes that lead to roasted chestnuts and toffee flavors. The tannins are refined and provide elegance and structure.

Brian: " It's a major victory anytime you can put a Pinot on the table for under $15! We all have friends and family over this time of year where we have to hide the "good stuff". The two listed below will not only provide you with quality you need for a novice wine drinker, but the discerning palate as well."

_____________________________________________

 

BELLE GLOS – Las Alturas Vineyard 

Pinot Noir 2014  

EVENT PRICE: Too Low To Show!  WINERY $50

A Cabernet drinkers Pinot!  It's deep ruby red in color with intriguing aromas of sun-warmed blackberries, ripe plums, with hints of black licorice.

_____________________________________________

TRUCHARD 

Pinot Noir 2014    

EVENT PRICE $21.25    WV $26.99   WINERY $35

A beautifully balanced Pinot that produces a little bit of every characteristic you would want in a Pinot.

_____________________________________________

Value Pinot

 AUSTERITY – Santa Lucia 

Pinot Noir 2014 

EVENT PRICE $12.75 WV $14.99   WINERY $17

SLH enjoys one of California's longest growing seasons. Monterey Bay's coastal morning fog and afternoon maritime breezes cool the vines, allowing long, gentle ripening of the grapes. This elegant and opulent Pinot Noir features aromas of cranberries and graham cracker with earthy overtones. The palate reveals ripe red fruit flavors complemented by balanced tannins and a long, lingering finish. 

_____________________________________________

 FESS PARKER – Parker Station 

Pinot Noir 2015   

EVENT PRICE $11.05 WV $12.99 WINERY $16

On the nose, aromas of cherry, strawberry, earth, forest floor, cinnamon and vanilla can be detected. This Pinot Noir has a lively acidity and combines flavors of bright cherry, cranberry, strawberry fruit and vanilla on the palate._____________________________________________

Alternative Red

VIVANCO RIOJA 

Seleccion de Familia Reserva 2010 

EVENT PRICE $20.40 WV $23.99 WINERY $26

92pts Wine Spectator – "This dense red delivers a mouthful of flavor, with rich notes of plum pudding, baking spices, coffee and toasty vanilla. The full, plush texture is supported by well-integrated tannins and just enough acidity to stay fresh. A modern style. Drink now through 2022. "

90pts Antonio Galloni – "Bright ruby. Aromas of cherry, redcurrant and vanilla, with a spicy nuance that builds in the glass. Supple and seamless on the palate, offering sweet red fruit flavors that deepen and pick up a smoky quality on the back half. Clings with very good tenacity on the subtly tannic finish, with the spice and vanilla notes echoing. This wine was aged in a combination of new and used American and French oak barrels."

_____________________________________________

TORMARESCA

"Neprica" Puglia 2012 

EVENT PRICE $14.99

* Best Buy * Named after the grapes in the blend (Negroamaro, Primitivo and Cabernet Sauvignon), this easygoing, savory wine doles out juicy blackberry, black currant, black cherry and a hint of licorice. Soft, round tannins provide the framework.  

_____________________________________________

PINYOLET  ON THE SHOW

EVENT PRICE $11.90   WV $13.99  WINERY $17   

Accolades 90pts Vinious

This shows all the big, ripe black cherry and brambly raspberry fruit aromas we love from Garnacha, along with the trademark fresh-cracked black pepper spice. It's softness works well with Turkey and the spice works well with the stuffing. Yum!

_____________________________________________

Whites

HYLAND ESTATE 

            Gewurztraminer 2015              

EVENT PRICE $13.60   WV $15.99 WINERY $18

Pale yellow. Aromatically pure scents of flowers, cinnamon and mace. Dense, sweet and creamy, with enticing yellow fruit flavors lifted by flowers and spices; a real essence of gewürztraminer. The palate-dusting finish is long and suave. The Hyland now work more gently with this fruit, using gravity feed and a pneumatic press and vinifying whole clusters.

_____________________________________________

Desi: "Owned by Brad Pitt and Angelina Jolie, this Rose isn't going to be around for much longer. Which is a shame because it's a pretty one. It's beautifully elegant, and offers a balance of light fruit followed by a lively acidity. So stock up! I know I am."

MIRAVAL 

Rose 2015   

EVENT PRICE $18.70 WV $19.99 WINERY $28

91pts Wine Enthusiast – "The product of a partnership between Brad Pitt and Angelina Jolie with the Perrin family of Chateau Beaucastel in Chateauneuf-du-Pape, this bottling achieves instant fame. Happily, it is also a very fine wine, perfectly balanced between crisp fruit and acidity. In the background a touch of tannin accompanies pepper and minerality. It is ready to drink. Editor's Choice."

91pts Antonio Galloni – "Pale orange. Expressive scents of fresh red berries, orange zest, white flowers and chalky minerals show excellent clarity and lift. Fine-grained and focused on the palate, offering zesty red currant, strawberry and tangerine flavors and an exotic touch of honey on the back half. The floral note comes back strong on a silky, very persistent, mineral-tinged finish."

 _____________________________________________

 OVUM   ON THE SHOW

"In The Dark" Gewürztraminer 2014 

EVENT PRICE $18.70 WV $21.99 WINERY $30

Highly textured and clean, this Gewurztraminer offers aromas of cinnamon, nutmeg, lychee and rose petals. The taste is rich, intense, luscious and well balanced with a dry, spicy finish. That's what makes Gewurztraminer a Thanksgiving favorite!

_____________________________________________

TREFETHEN 

Dry Riesling 2015   

EVENT PRICE $14.45   WV $16.99  WINERY $25

This ultra-dry Riesling captivates with aromas of orange blossom and lime zest. Smiles will be invoked with the tropical palate and highlights of nectarine, apricot, honey-crisp apple and pear.

_____________________________________________

CROSSBARN – Paul Hobbs Sonoma Coast 

Chardonnay 2014 

EVENT PRICE $20.40 WV $25.99 WINERY $27

Paul Hobbs has become a legend in winemaking over the past couple of decades. His Crossbarn label offers the consumer a taste of his reputation without the high prices his wines demand.

_____________________________________________

CAKEBREAD 

Chardonnay   2013

EVENT PRICE $32.30 WV $37.99 WINERY $40

Asian pear and honeydew melon with complementary coconut and sweet oak scents. Fresh and lively on the palate, with rich citrus, apple, melon and tropical fruit flavors, it culminates in a long finish featuring pleasing mineral and spice tones.
Weekend Magazine Cookbook –
---
Fig Brulee with Burrata Cheese
Recipe By:Chef JohnIngredients
"These were amazing with the fresh, creamy burrata, but any style cheese plate would benefit mightily from the shiny, sexy fruit. If cheese isn't your thing, go grab a pint of vanilla ice cream, forget all about that sweet-savory thing, and just go full-dessert."
6 fresh figs, halved
1 tablespoon Demerara sugar
4 ounces Burrata cheese
extra virgin olive oil
sea salt and ground black pepper to taste
Place figs on a flame-proof surface or plate and sprinkle flesh-sides with Demerara sugar. Using a kitchen torch set to a medium-high flame, melt the sugar by making short, even passes over the top of the sugar. Continue melting the sugar until it bubbles and turns dark brown, about 30 seconds.
Place Burrata cheese on a plate. Drizzle with olive oil, sprinkle with a pinch of sea salt and black pepper. Place bruleed figs around cheese and serve.
ALL RIGHTS RESERVED © 2018 Allrecipes.com 
---
Dave's Lemoncello No Bake Cheese Cake 
Ingredients:
2 pkgs. graham crackers (20 sheets)
11 Tablespoons  (1 3/8 sticks)  UNSALTED butter, melted
2 tablespoons sugar (raw preferred)
2 8 oz. pkgs. Philly Cream Cheese (1 room temperature, 1 little softer)
1 14 oz. can (1 1/4 cups ) sweetened condensed milk
1/4 lemon juice
3 teaspoons vanilla 
Lemoncello
 Directions: 
Crush graham crackers and form crust in "cheese cake pan" using melted UNSALTED butter
 With an electric hand beater, blend sugar, Philly cream cheese, lemon, and vanilla. 
YOU MUST ADJUST THE LIQUID.  Add up to 1/2 cup Lemoncello by reducing the same amount of condensed milk.
I suggest mixing in a separate bowl.  Start with 1 cup condensed milk, 1/4 cup Lemoncello  
Add this to the cream cheese mix and blend with beater.  Pour onto crust and chill for 1 hour. 
You can make a blueberry reduction by boiling 1 cup fresh blueberrys in water with 1/2 tablespoon sugar and 1/4 teaspoon nutmeg.
Bring to boil for 3 minutes and remove from heat.  When cooled to room temperature, puree in blender, add 1/2 cup port of sherry (sweet versus nutty) and cook on lowest heat stirring frequently until thickened (about 40 minutes)  Let cool and drizzle over cheese cake slices.  
---
Bacon Avocado Fries dusted with Pistachios 
You can't say no to anything wrapped in bacon.
YIELDS:12
PREP TIME:0 HOURS 5 MINS
COOK TIME:0 HOURS 15 MINS
TOTAL TIME:0 HOURS 30 MINS
INGREDIENTS 
3 avocados
12  thin strips of bacon
1 cup chopped Pistachios
1/4 c. ranch dressing
DIRECTIONS
Preheat oven to 425º. Slice avocados into equally sized wedges. Wrap each wedge in bacon, cutting bacon if needed. Place on a baking sheet, seam side-down.
Bake until bacon is cooked through and crispy, 12 to 15 minutes.
Roll in the chopped Pistachios 
Serve with ranch.
---
Spicy Pimentón Popcorn 
YIELDAbout 12 cups
TIME20 minutes
Andrew Scrivani for The New York Times
Using more oil than popcorn, a technique developed by Jessica Koslow of Sqirl in Los Angeles, yields a particularly crisp and rich popcorn. Here, the kernels are popped, then tossed while still hot with a combination of sweet and hot smoked paprikas, and bit of earthy cumin. It's a complex mix that can be as hot as you can take it.
INGREDIENTS
½ cup grapeseed or other neutral oil with a high smoke point (such as corn, canola, or sunflower)
⅓ cup popcorn kernels
½ teaspoon fine sea salt
¼ teaspoon ground cumin
¼ teaspoon sweet paprika
 Pimentón (hot smoked paprika), to taste
PREPARATION
In a large Dutch oven or heavy-bottomed pot set over medium-high heat, heat oil and 3 popcorn kernels. When kernels pop, add remaining kernels, lower heat to medium-low, and cover almost all the way with a lid, leaving a tiny crack open for steam to escape (face the crack away from where you are standing).
Cook, shaking occasionally, until popping stops.
Transfer popcorn to a bowl, and immediately toss with salt, cumin, sweet paprika and pimentón, if using. For the utmost crunch, let popcorn settle for 5 to 7 minutes before eating.
Vegan 'Cheesy' Popcorn
Andrew Scrivani for The New York Times
Using more oil than popcorn kernels — a technique developed by Jessica Koslow, the chef and owner of Sqirl in Los Angeles — gives you an ultracrunchy popcorn with rich flavor. Ms. Koslow prefers grapeseed oil for its high smoke point and clean taste. But to mix things up, you can combine grapeseed oil with a more flavorful oil such as virgin coconut, olive oil, butter, duck fat, or bacon grease. Use 1/4 cup of each. After popping, you can toss the kernels with just salt (they won't need any more fat by way of butter) or a flavorful spice mix. Here, they're tossed with nutritional yeast, which gives them a Parmesan-like umami flavor, along with a little rosemary or kelp powder for depth. 
INGREDIENTS
½ cup grapeseed or other neutral oil with a high smoke point (such as corn, canola, or sunflower)
⅓ cup popcorn kernels
½ teaspoon fine sea salt
¼ cup nutritional yeast
½ teaspoon black pepper
¼ teaspoon dried rosemary or powdered kelp seaweed, crushed to a powder
 Pinch of red-pepper flakes(optional)
PREPARATION
In a large Dutch oven or heavy-bottomed pot set over medium-high heat, heat oil and 3 popcorn kernels. When kernels pop, add remaining kernels, lower heat to medium-low, and cover almost all the way with a lid, leaving a tiny crack open for steam to escape (face the crack away from where you are standing).
Cook, shaking occasionally, until popping stops.
Transfer popcorn to a bowl, and immediately toss with salt, nutritional yeast, black pepper, dried rosemary and red-pepper flakes. For maximum crunch, let popcorn settle for 5 to 7 minutes before eating.
---
Summer Time Zabaglione
© Stephanie Shih
Yield
Serves : 4
Here we serve the zabaglione hot when it's just made, but if you want to prepare the dish ahead of time, mix the zabaglione with whipped cream and refrigerate it as described in the first variation below. 
Ingredients
8 large egg yolks, at room temperature
3/4 cup dry marsala
1/2 cup sugar
1 pint strawberries 
How to Make It
Step 1    
Put the egg yolks, the marsala, and then the sugar into a large stainless-steel bowl. Set the bowl over a large saucepan filled with 1 inch of barely simmering water. Using a hand-held electric mixer on low speed or a whisk, beat the egg-yolk mixture until it is hot and the mixture forms a ribbon when the beaters are lifted, 5 to 8 minutes. Don't cook the zabaglione for too long, or it will curdle.
Step 2    
Put the strawberries in stemmed glasses or in bowls. Top with the hot zabaglione and either serve the dessert immediately or refrigerate it for up to an hour.
Notes
Variations
For a zabaglione that will last up to six hours in the refrigerator, add whipped cream. Beat half a cup of heavy cream just until it holds firm peaks. When the zabaglione is done, remove the bowl from the heat and continue beating until it's cool. Fold the cooled zabaglione into the whipped cream. Put the strawberries in bowls, top with the zabaglione, and refrigerate.
Substitute blueberries, raspberries, or sliced peaches for the strawberries.
---
Dave's Corn Salad
 INGREDIENTS
DIRECTIONS
Mix first 5 ingredients and chill. Stir in corn chips just before serving.
---
Chipotle-Maple Chicken Thighs
Makes: 6 to 8 servings
Hands On 20 mins
Total Time 1 hr 
ingredients
1 tablespoon smoked paparika
1 tablespoon packed dark brown sugar
1 1/2teaspoons kosher salt
2 teaspoons dry mustard, divided
1 1/2teaspoons garlic powder, divided
1/2teaspoon chili powder
1/4teaspoon freshly ground black pepper
2 1/2pounds skinless, boneless chicken thighs
1/2cup ketchup
1/4cup pure maple syrup
2 tablespoons molasses
1 tablespoon finely chopped chipotle chile peppers in adobo sauce
2 teaspoons Worcestershire sauce
1 teaspoon dry mustard
1/2teaspoon garlic powder
3 tablespoons freshly squeezed lime juice
Lime wedges (optional) 
directions
In a small bowl, combine smoked paprika, brown sugar, salt, 1 teaspoon dry mustard, 1 teaspoon garlic powder, chili powder and black pepper. Sprinkle and pat mixture evenly on both sides of chicken thighs. Chill, covered, for 30 minutes.
Meanwhile, in a small saucepan, combine ketchup, maple syrup, molasses, chipotle peppers, Worcestershire sauce and the remaining 1 teaspoon dry mustard and 1/2 teaspoon garlic powder. Bring just to boiling; reduce heat to low, and simmer uncovered for 15 minutes, stirring occasionally. Set aside.
Prepare a gas or charcoal grill for direct cooking over medium-high heat. Arrange chicken on a lightly oiled grill rack, cover grill, and cook 4 minutes. Flip and cook 4 minutes more. Stir lime juice into sauce. Brush chicken with some of the sauce, flip and cook 1 minute. Brush sauce on the second side, flip and cook 1 minute more, or until done (170 degrees ). Remove from grill; let rest 5 minutes. Serve with lime wedges for squeezing, if desired.
---
Grandma Vi's Buttermilk Pancakes
INGREDIENTS:
1 cup all-purpose flour                                   1 large egg
2 teaspoons baking soda                                 1 cup buttermilk  (try to find Bulgarian buttermilk)
1 teaspoon baking powder                             1 lb. or more of good bacon
¼ teaspoon salt
½ teaspoon sugar
1 teaspoon cinnamon (optional)
DIRECTION:  NOTE: MUST FOLLOW EXACTLY
Cook bacon to render the fat and get at least one cup of grease.  Let the grease cool to room temperature. Heat griddle to 400°  With a new griddle, you will need to season it the first few time.  Take a paper towel and rub a little bacon grease on it just before you put the first pancakes on the griddle to cook.  DON'T ever wash the griddle after that, just wipe it with a damp paper towel.
Measure all dry ingredients into one large mixing bowl and set aside.  Measure the buttermilk and egg into one bowl, mix together and set aside – they must be room temperature before adding to dry ingredients. (leave the buttermilk out too, you will need it later – room temperature important) When the griddle is at temperature, mix the dry ingredients and the egg and buttermilk – it will be very thick.  Add a little more buttermilk to get it the consistency of thick oatmeal.  Then add the bacon grease and mix in thoroughly.  Add a little more buttermilk until the consistency is like a cake batter, maybe a little thicker, but spoons on smoothly.  Make sure the griddle is 400°  Due a test pancake – looks dry around the edges and bubbles in the middle – flip and should be the golden brown you've always seen in these pancakes.  Check in about a minute by lifting one edge to see if done on the bottom.
---
Dave's –  Not Your Mother's Green Bean Casserole
Serves: 6
INGREDIENTS:
2 lbs. fresh green beans (2 bags frozen thawed)
1 can mushroom soup
2 cups Half & Half
¼ cup Horseradish (more if you like spice)
2 cloves minced garlic (tablespoon)
1 cup chopped bacon
2 teaspoons Nutmeg
1 tablespoon butter
3 cups chopped Pistachios
DIRECTION:
Heat oven to 375 digress.  Cut (fresh) green beans into 1" bites, blanche in boiling water for 10 minutes, drain and place in medium size casserole dish (rectangle or round).  Wisk Half & Half in a mixing bowl with soup, stir in horseradish, add minced garlic, bacon, and Nutmeg; mix thoroughly. Pour over beans and let settle (approx. 2 mins.)  Place in oven and bake for 35-45 minutes.
In a medium frying pan, melt the butter until it begins to turn light brown, pour Pistachios into the pan and reduce to low heat and "crisp" the nuts. (do this with 5 minutes left for the beans to bake)
When you remove the beans from the over, sprinkle the nuts over top and serve hot.
---
Dave's Potatoes Nirvana
Serves: 6
INGREDIENTS:
Yukon Gold Potatoes (depending on size 8-12)
10 oz. Cream cheese & chives dip softened
3 oz. sour cream
2 teaspoons Nutmeg
2 cups chopped bacon (optional)
DIRECTIONS:
Skip-peel potatoes (leave a little skin on, lots of nutrients) quarter and boil until soft.  In a large mixing bowl, place cream cheese on bottom.  Drain boiled potatoes and pour on top of cream cheese.  Blend potatoes and cream cheese.  Using a hand mixer on low speed, beat in sour cream, Nutmeg and bacon whipping potatoes to a smooth, mashed texture. Use additional sour cream is make potatoes a little more "loose" if desired.
---
Nana's New Nana's New Year's Eve Oyster Stew
Ingredients
1 pint shucked oysters in their liquid (liquor)
8 tablespoons butter divided
2 medium shallots, minced
1 small garlic clove minced
salt and fresh ground black pepper to taste
4 cups whole milk
2 cups heavy cream
2 to 3 drops Tabasco sauce, or to taste
Oyster crackers
Extra butter (optional)
Instructions
Lift the oysters out of their liquid, checking for bits of shell and sand. Pass the liquid through a fine strainer to remove any sand.
In a 3 to 4-quart saucepan melt the butter over medium heat, stir in the shallots and saute until shallots are softened and clear. Blend in garlic, a few pinches of salt and pepper. Cook 30 seconds. Stir in the milk, cream, oyster liquid and Tabasco. Bring them to a simmer. Cook for 2 minutes at a gentle bubble, take care that they don't boil over, keep them at a simmer.
Oyster bath. Melt 4 tablespoons of butter in a frying pan and slightly brown the butter. Remove from heat.  Stir in oysters and let sit for two minutes.
Turn the heat down in the sauce pan so the liquid barely bubbles, blend in the oysters and cook them for just a minute or until their edges begin to curl, you want them very tender. Serve the stew right away with oyster crackers. Some people like to swirl extra slivers of butter into each serving.
Categories: 
Prep time: 
15 minutes
Cook time: 
15 minutes
Total time: 
30 minutes
Yield: 
3-4 servings
---
Nana's Christmas Fudge
"This was my Nana's recipe for fudge, passed down through the family. It's better than any fudge I've ever had at the candy store anywhere in this world, and easy enough to whip up in 15 minutes or so."
Ingredients
1 (7 ounce) jar marshmallow creme
1 1/2 cups white sugar
2/3 cup evaporated milk
1/4 cup butter
1/4 teaspoon salt
2 ½ cups Hersey's Kisses
1 cup semisweet chocolate chips
1 teaspoon vanilla extract
OPTIONAL – 1/2 cup chopped nut (pecans or Walnuts) Nana always made a separate batch with nuts; it's really better without!
Directions
Line an 8×8 inch pan with aluminum foil. Set aside.
In a large saucepan over medium heat, combine marshmallow cream, sugar, evaporated milk, butter and salt. Bring to a full boil, and cook for 5 minutes, stirring constantly.
Remove from heat and pour in semisweet chocolate chips and milk chocolate kisses. Stir until chocolate is melted and mixture is smooth. Add vanilla. )add nuts) Pour into prepared pan. Chill in refrigerator for 2 hours, or until firm.
~~~~~~~~~~~~~~~~~~~~~~
The Goodlife All-purpose Holiday Spirits Cookies
Dave's cooking Tips:  ALWAYS let butter, eggs and liquids come to room temperature before using in baking.  That means at least a couple hours before using.
Browned butter is the key ingredient in these decadent cookies. The extra step of browning the butter is well worth the added effort for the incredible flavor that it contributes to the cookies (and the heavenly fragrance that will fill your kitchen)!
INGREDIENTS 
1 1/4 cups butter
2 1/4 cups brown sugar
3 eggs
1 1/2 Tbsp. vanilla
1 1/2 Tbsp. (your choice) rum/ whiskey/Sambuca/Peppermint Schnapps 
4 1/2 cups all purpose flour
3/4 tsp. baking soda
3/4 tsp. baking powder
3/4 tsp. salt
1 cup pecans, very finely chopped (for rolling) [nuts are always optional]
DIRECTIONS
1) Preheat oven to 350 F. (In Reno and above, I recommend adding 20º to 25º and watch carefully)
2) Brown butter: in a frying pan over medium heat melt butter. Continue to heat, stirring constantly until butter foams up and begins to turn amber and fragrant (3-10 minutes). Remove from heat and pour browned butter into a medium bowl. Set aside and allow to cool to room temperature.
3) In a separate small bowl combine dry ingredients (flour through salt) and set aside.
4) Add brown sugar to cooled brown butter and beat well to combine. Add eggs and beat until smooth. Add vanilla and rum and mix until combined.
5) Add dry ingredients to wet ingredients in 2-3 additions, mixing between additions.
6) Chill dough in refrigerator for 30 minutes to 2 hours until firm, or in freezer for later use.
7) Roll 1 – 1 1/2″ balls of chilled dough in finely chopped pecans, pressing pecans firmly into dough. Place on a parchment-lined baking sheet and flatten balls slightly.
8) Bake for 12 – 14 minutes, rotating baking sheet halfway through. Allow to cool.
Makes approximately 6 dozen cookies.
~~~~~~~~~~~~~~~~~~~~~~
The Goodlife Cardamon Pistachio Cookies with peppermint White chocalte boots
YIELD
Makes about 3 1/2 dozen cookies
ACTIVE TIME
35 minutes
TOTAL TIME
1 hour, 10 minutes plus at least 1 hour chilling
INGREDIENTS
For the cookies:

10 tablespoons unsalted butter
2 tablespoons whole cardamom pods, crushed
1 cup all-purpose flour
1 teaspoon kosher salt
1/4 teaspoon baking powder
1/2 cup sugar
1 large egg
1/2 cup chopped unsalted, shelled raw pistachios (about 2 1/4 ounces)

For the peppermint white chocolate boot:

8 ounces white chocolate, coarsely chopped
1 1/2 teaspoons vegetable oil
1 teaspoon Peppermint extract
1/2 cup finely chopped unsalted, shelled raw pistachios (about 2 1/4 ounces)
DIRECTIONS
Make the cookies:

Cook butter and cardamom in a small saucepan over medium heat, stirring occasionally, until butter is golden brown and fragrant, 6–8 minutes. Let stand 15 minutes, then strain butter through a fine-mesh sieve into a small bowl. Freeze until just firm, about 15 minutes.
Meanwhile, whisk flour, salt, and baking powder in a small bowl.
Transfer butter to the bowl of a stand mixer fitted with the paddle attachment; add sugar. Beat on medium-high speed until pale and well combined, about 2 minutes. Add egg and beat until combined, scraping down sides of bowl as needed. Add dry ingredients and pistachios and beat on low speed just until combined.
Turn out dough onto a clean work surface. Divide in half. Place each half on a 9×13″ sheet of parchment paper with the long end facing you. Roll dough into 2 logs about 1 1/2″ in diameter. Wrap each in parchment paper, making sure to cover ends completely. Chill until firm, at least 1 hour or up to overnight.
Position racks in upper and lower thirds of oven; preheat to 350°F. Let dough stand at room temperature until soft enough to slice, about 15 minutes. Slice logs into 1/4″-thick rounds. Arrange rounds on 2 parchment-lined rimmed baking sheets about 1″ apart. Bake cookies, rotating sheets halfway through, until bottoms are lightly golden, 12–15 minutes. Transfer sheets to wire racks and let cool.

Make the boot and assemble the cookies:

Combine chocolate and oil in a small heatproof bowl. Heat in 10-second intervals in microwave, stirring, until melted and combined, 30–40 seconds total. Or use a double boiler to melt. After melted, add Peppermint extract and stir in thoroughly.
Dip cookies halfway into melted chocolate and transfer to parchment-lined baking sheets. Sprinkle with pistachios. Chill until chocolate is set, about 10 minutes.

Do ahead

Dough can be made up to 2 weeks ahead; keep frozen. Let stand at room temperature until soft enough to slice, about 30 minutes
~~~~~~~~~~~~~~~~~~~~~~~
Dave's Turkey Barley Soup
Ingredients
1 large yellow onion nicely chopped
½ stalk of celery nicely chopped
3 cloves garlic finely chopped
2 quarts water
Turkey carcass and bones
 780ml White wine (Chardonnay or Pinot Gris)
2 tablespoons Italian seasoning
4 oz. butter
1 ½ cups barley
Directions
Sauté onion, celery and garlic in butter until medium brown.  Add water and bring to boil.  Add Turkey carcass and bones.  Allow to boil for 2 minutes then reduce heat to simmer. Simmer for 2 hours and remove from heat.  Let cool and place in refrigerator overnight.  Allow to warm to room temperature next day and bring to boil again for 3 minutes.  Reduce to simmer and add Italian seasoning.  Simmer for one hour.  Add room temperature white wine.  Salt and pepper to taste.  Let cool to room temperature.  Reheat to a boil and add barley.  Boil for 3 minute and reduce to simmer for 20 minutes.  Serve when barley is soften.
---
Potato, griddled asparagus and egg salad
Prep: 15 mins


Cook: 10 mins
Serves 4
800g salad potatoes, such as Charlotte or Maris Peer, sliced
4 medium eggs
230g asparagus
2 tbsp olive oil
1 tsp white wine vinegar
1 garlic clove crushed
2 tbsp fresh dill, finely chopped
2 tbsp capers
4 gherkins, finely chopped
Place the potatoes in a saucepan of boiling water and boil for 10 minutes. Meanwhile place the eggs in a small saucepan of simmering water and cook for 5 minutes.
Lightly grease a griddle pan and place over a medium to high heat. Add the asparagus to the pan and cook for 2-3 minutes until charred.
Whisk the oil, lemon juice, white wine vinegar, garlic and dill together.
Drain the potatoes and divide between four plates. Scatter over the asparagus, capers and gherkins. Slice the egg and place on top. Drizzle with the dill dressing to serve.